Left bank, Goldsborough Mill Dam to Brough Wood and below Goldsborough Mill Dam to notice board. This lovely stretch of the middle Nidd is split by a weir. Above the weir is mainly slow and deep contains roach to 2lbs+, pike to double figures, perch, chub, dace, gudgeon, ruffe, eels, trout and grayling.
Below the weir is shallower and faster flowing and contains barbel to 10lbs, chub to over 5lbs, pike, dace, roach, perch, grayling, trout, gudgeon, ruffe, eels and occasional bream.
Venue Directions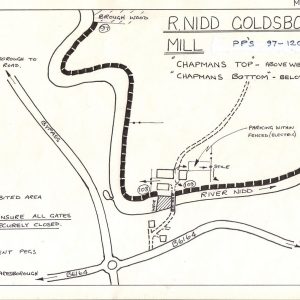 Follow the directions to get to the location:
Head out of Knaresborough on York Road turning right onto Wetherby Road at the traffic lights. At the roundabout on the bypass keep on Wetherby Road by taking the 2nd exit and after 50 meters turn left onto the bridle path. Follow this down over the bridge and through the farmyard.
You will see in front of you a set of three gates. The gate to the right leads to an enclosed area which is the original car park we can still use.The farmer is also happy for us to park on the grassed area to the right of the lane as you go through the 2nd gate. No parking is allowed within the farmyard.
Downstream of the mill are pegs 20 – 30 which includes from the bridge to the weir. When in operation the hydro power screw at the side of the weir can raise the river level by several inches.
Be aware of the warning signs around pegs 29 and 30 relating to the overhead power lines.
Walk from the car parking areas across the farmyard to the gate above the weir leading to pegs 19 – 11. Once again be aware of the warning signs around pegs 14 and 15 relating to the overhead power lines. The upper limit is the fence at Brough Wood.